We're glad you're here! Your summer of transformative research is right around the corner, and the best part is, we'll pay you to be a part of it. STAR fellows earn $555/week plus support for housing and relocation if you move more than 50 miles from your home to participate in the program.
Applicants will need to create a login to the STAR Application portal here. This will allow to you work on your application in phases and come back at any point.
The process will take approximately 30-60 minutes to complete and you'll need:
your resume (need help? We've got you covered.)

unofficial copies of your transcripts,

and the name/email for a reference from your professional world (e.g. a professor, advisor, employer, research mentor, etc).
Prior to submitting your application, we encourage you to visit each lab site's website and learn about which ones interest you. Previous STAR fellow's research posters are available on the Cal Poly Digital Commons and can help provide a sense for the type of research that occurs at each site.
Because STAR matches your interests with available projects, it is in your best interest to apply early and remain in the applicant pool as long as possible. The placement phase will begin in early February and continue through April. During this time you may be contacted by a lab site for an interview, and may receive an offer from a lab site that you may not be expecting.
Many of our placements happen in the last month of the process (mid-March to mid-April). If you're willing to wait, there's often a chance of something coming together.
Do you have questions about the application, the placement process or any part of the program? Visit our virtual office hours  every Wed from 11am-12pm PT from October 1st to February 29th. A STAR staff member will be there to help.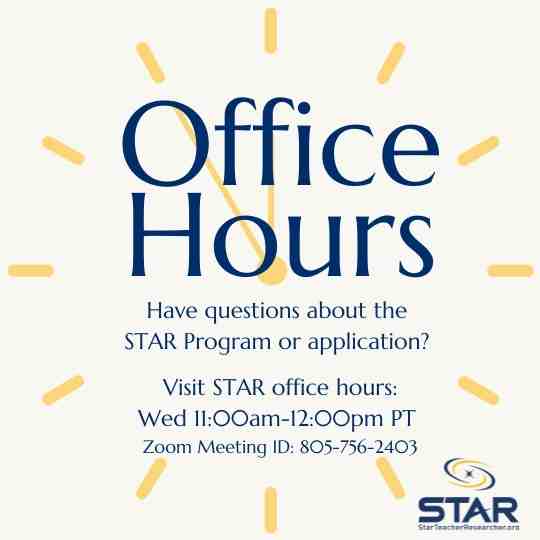 Your 9-week summer with STAR will begin June 10th, 2024 and continue through August 9th, 2024. We know that life happens over the summer, and most of our sites can accommodate alternate schedules. So don't hesitate to apply even if there are details to be ironed out. Reach out to us with questions and we can converse about options.
At least 18 years old by the start of the program, and junior level standing by January 1st of the year you plan to apply;

A student or alumnus at one of the following:
   any California State University campus,

   Heritage University,
   Southern University and A&M College,
   or any NSF Robert Noyce Scholarship Program;

US Citizen, PRA, or DACA grant holder;
Desire to pursue K-12 STEM education as a profession.

First time participants must be pre-service, meaning prior to starting their first full-time, contracted teaching assignment. This generally includes undergraduates, baccalaureate or graduate students, credential students, and substitute teachers.

STAR alumni can participate for a total of three summers, or until they begin their third year of teaching.
The application deadline for Summer 2024 is Monday, Febrary 5th at 9:00am.
Need some advice about the application? Or perhaps you have some questions about the program? Reach out to the STAR staff at star@calpoly.edu, call us at (805) 756-2412, or visit our virtual office hours.


STAR was the experience of a lifetime!"
              – 2018 STAR fellow at NASA JPL