At the core of every STAR Fellow's experience are the outstanding Research Mentors and laboratory staff at our Lab Site Partner facilities. Without them, this program would not be possible.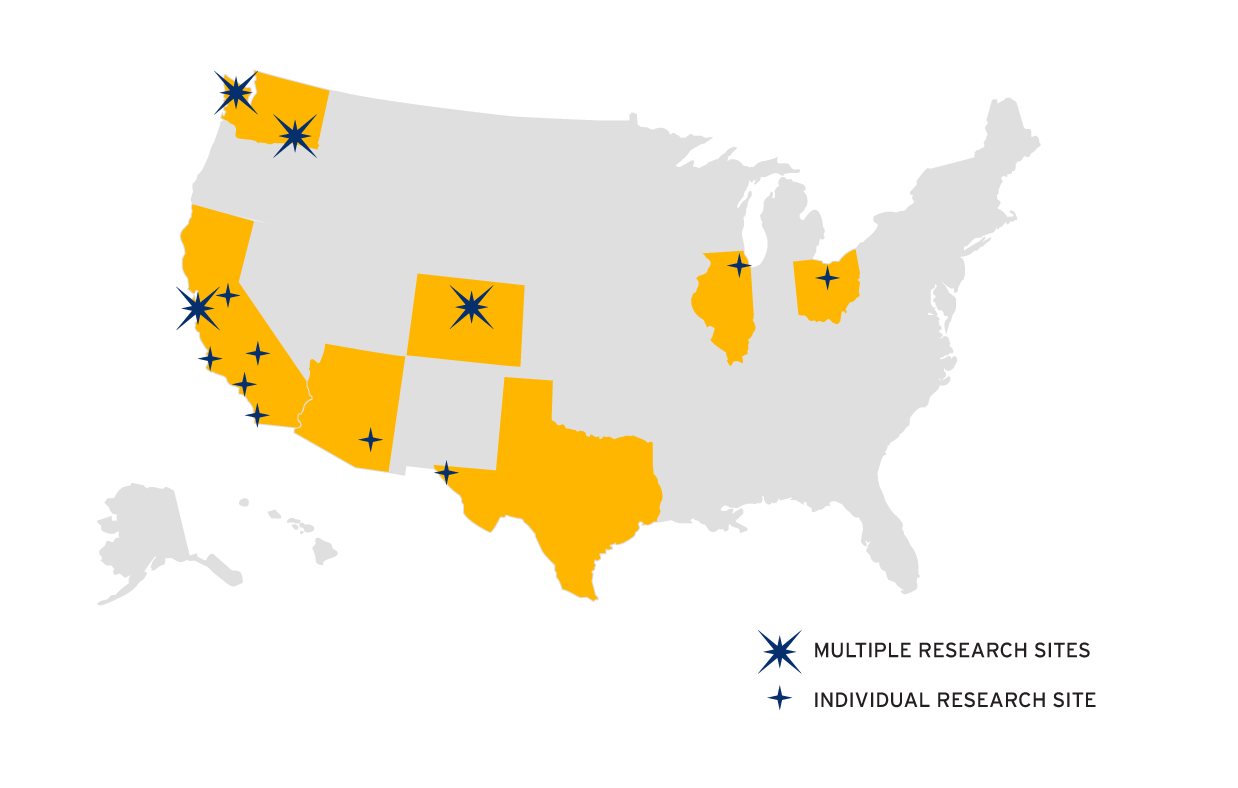 Pacific Northwest
Seattle
Seattle Pacific University
University of Washington: Clean Energy Institute
University of Washington: MEM-C
University of Washington: Siedler Lab
Institute for Systems Biology
Fred Hutch Cancer Research Center
Eastern Washington
Pacific Northwest National Laboratory
Laser Interferometer Gravitational Wave Observatory
CALIFORNIA
SF Bay Area
SLAC National Accelerator Laboratory (Palo Alto, CA)
NASA Ames Research Center (Mountain View, CA)
SETI Institute (Mountain View, CA)
Lawrence Livermore National Laboratory (Livermore, CA)
Sandia National Laboratory, (Livermore, CA)
Estuary and Ocean Science Center (Tiburon, CA)
San Francisco State University (San Francisco, CA)
Sacramento
Sacramento State University (Sacramento, CA)
Central/Southern California
Cal Poly (San Luis Obispo, CA)
NASA Armstrong Flight Research Center (Palmdale, CA)
Air Force Research Laboratory (Palmdale, CA)
Santa Rosa Island Research Station (Santa Rosa Island, CA)
Monterey Bay Aquarium Research Institute (Monterey, CA)
NASA JPL (Pasadena, CA)
NOAA Southwest Fisheries Science Center (La Jolla, CA)
COLORADO
National Center for Atmospheric Researcher (Boulder, CO)
NOAA Earth System Research Laboratory (Boulder, CO)
National Renewable Energy Laboratory
southwest
Arizona
Biosphere 2 (Oracle, AZ)
National Optical Astronomy Observatory (Tucson, AZ)
Texas
University of Texas at El Paso (El Paso, TX)
midwest
Illinois
Fermi National Accelerator Laboratory (Batavia, IL)
Ohio
The Ohio State University (Columbus, OH)
Relating Experience to the Classroom
Real research and engineering: Only by living it can you share it with your students.